A big relief comes up this Valentines when, the Govt of India has slashed the ceiling prices of Heart Stent and consequently, the Angioplasty cost!
Image Source : https://i.ytimg.com/vi/HHyeLPrOsfE/hqdefault.jpg
Approximately, in every 33 seconds, one patient dies of heart attack in India!! The mortality of the heart diseases is on a rise in India. This is attributed to various causes, right from unawareness of the treatment, unhealthy diet and poor physical work. Most noteworthy, is the expensive cardiac disease treatment in a country where only 3% of the population is a registered tax payer.
Core points: Slashing of Heart Stent and Angioplasty Cost
NPPA (National Pharmaceutical Pricing Authority) India, had recently included the life saving coronary artery stents in the list of Essential Drugs. The Minister for Chemicals & Fertilizers and Parliamentary Affairs, Ananth Kumar informed that, the pricing of the domestic (Bare Metal or BMS) as well as imported (Drug Eluting or DES) cardiac stents will be fixed.
"We want to stop the menace of over-pricing of coronary stents in various hospitals. After careful consideration and after having inputs from various stakeholders, the NPPA has decided to fix the ceiling prices for cardiac stents," he said.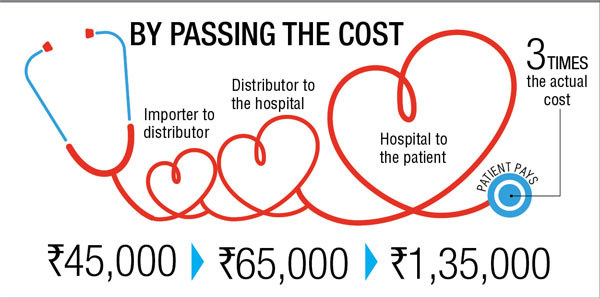 Image Source: http://static.dnaindia.com/sites/default/files/2017/02/08/546470-by-passing-the-cost.jpg
He has also stated that this step would bring down the cost of coronary stents by over 85%. Furthermore, the maximum fixed prices shall be implemented immediately, from 14th of February, 2017 by all Private and Govt hospitals in India.
In addition, in case of serious violations of the ceiling prices, the NPPA has the authority to recover the over-charged amount, along with 15 percent interest. The NPPA Chairman Bhupendra Singh said, "There are no provisions for penalty right now. However, we can take criminal action and invoke provisions of the Essential Commodities Act and cancel the licence."
Types of Cardiac Stents and their functioning-
There are many types of coronary stent available for the treatment of coronary artery disease. But, I shall be describing the commonly used heart stents in India.
Bare Metal Cardiac Stent
It is typically a first-generation technology which is barely a thin vascular wire without the coating.
Common names are – Bx Velocity, Express 2, Millennium Matrix.
Drug Eluting Cardic Stent
A drug eluting stent is an advanced version. This stent slowly releases the drug to block the cell proliferation and re-stenosis. Hence, the drug released by the stent will not allow the stent to be blocked in due course of time.
Common names are – Cypher, Taxus, Xience V. 
Absorbable Stent
This is a polymer made, occasionally coated with re-stenotic agent. Furthermore, this cardiac stent is biodegradable and bioabsorbable.
Common names are – AMS, ABSORB trial, REVA / RESORB trial.
Bioactive Cardiac Stent
This stent reacts with the body's natural processes to achieve the Anti-Stenotic effect.
Common names are – Titan 2 BAS, Genous.
Procedure of Angioplasty – Image Source: http://portugalresident.com
Previous rates of heart stent-
Earlier, the prices of the heart stent were not fixed. It was based on the mutual benefit between the manufacturing company and the hospital. Moreover, it was learnt that, for the corporate hospitals, selling coronary stents was far more profitable than selling health services. The minister informed that these stents were actually being sold at a huge 400% profit margin. (Source: http://economictimes.indiatimes.com/industry/healthcare/biotech/pharmaceuticals/national-pharmaceutical-pricing-authority-slashes-stent-prices-by-up-to-85-per-cent/articleshow/57137874.cms)
Most hospitals charge around INR 30,000 to 80,000 for the basic Bare Metal coronary stent. This price has been fixed to INR 7,500 per stent. Therefore, this means that, you will not be charged over the fixed price by any Health Care Institution in India.
Similarly, most hospitals charge around INR 50,000 to 1,20,000 for the Drug Eluting coronary stent. This price has been fixed to INR 30,000 per stent.
Many public health groups have welcomed the NPPA's fixing the ceiling costs for heart stents. Furthermore, they have also informed that, this bold step by the Govt of India would make the angioplasty procedure more affordable to the middle and lower class.  In addition, this would also put an end to the malpractices by the hospitals associated with corrupt marketing of the coronary stent.
Finally, the public health groups stated that the order was a big step in checking the corrupt practices of the manufacturers, doctors and hospitals. "After months of consultations, we welcome the strong and determined action of the government, particularly in the face of a concerted campaign by industry and profit-oriented hospitals to prevent any form of effective price control," said Malini Aisola of the All India Drug Action Network.
Dr Navneet Goyal is an Anesthesiologist Doctor, Internet Entreprenuer, Self-taught Marketer, SEO and a Growth Hacker! He has also learnt Web Designing, Lead Management, Digital Marketing & Financial Planning through various resources. His goal is to enhance the current Education model into a Motivational Driven Self Learning Platform.
Latest posts by Dr Navneet Goyal (see all)